直流有刷伺服电机
AM60-50T1

规格:
法兰: 57mm
功率: 50W
额定转矩: 0.14Nm
额定电流: 2.46A
额定电压: 28VDC
工作电压范围: 20-80VDC
测速机反馈: 9.5V
AM series DC brush servo motors utilize traditional ferrite magnets, which are ideal for cost-sensitive applications. In addition, the higher inertia armatures provide improved motor to load inertia matching for medium to high inertia loads. This helps to reduce the mechanical shaft resonance, which allows higher servo gains with increased stability. All frame sizes incorporate skewed armatures, which provide Ultra smooth operation (i.e. low cogging torque) at all speeds.
Continuous Torque Range: 0.53 Lb-in (0.06Nm) to 110 Lb-in (12.5Nm)
Peak Torque Range: 1.5 Lb-in (0.17 Nm) to 328 Lb-in (37.2 Nm)

AHM series DC brush servo motors utilize high-energy Neodymium-Iron-Boron (NdFeB) magnets, which provide more torque in a smaller package with higher dynamic performance than traditional ferrite magnet designs. Due to the high torque to inertia ratio of these motors, they are ideal for applications which require high acceleration and deceleration characteristics or where the physical size of the motor is a major concern.
Continuous Torque Range: 1.24Lb-in (0.14 Nm) to 64.0 Lb-in (7.30 Nm)
Peak Torque Range: 3.71 Lb-in (0.42 Nm) to 316 Lb-in (35.8 Nm)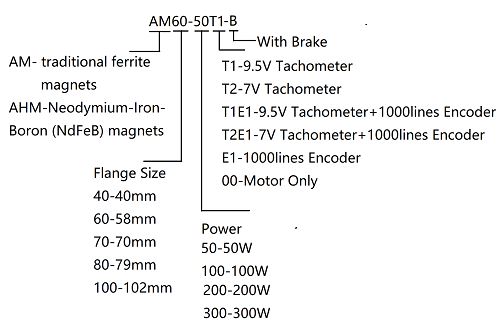 资料下载